Reception - Home Learning - 29th June 2020
English
This week we are going to look at the digraphs ow, oi and ear. A digraph is two letters making one sound.
The word ring has four letters but only three sounds, the digraph can also be found at the end and in the middle of a word.
It is best to focus on one sound per day to help embed learning.
Tricky Words:

These are the words that don't sound out. This week look at: are my her

What can you use to write these out? Perhaps you can get some water and paintbrushes and have a go at forming these words on the pavement.
What sentence can you write that contains these tricky words?

Sentence Challenge:

Look at the picture could you write a sentence or two or even a story about the picture?

What do you think the girl and her dragon are looking at?

Are they off on an adventure?
ow
oi
ear
cow

oi

l

f

ear

ow

l
c

oi

l
h

ear

tr

ow

el
s

oi

l
n

ear

p

ow

b

oi

l
cl

ear

w

ow

c

oi

n
d

ear

b

ow

j

oi

n
t

ear

t

ow

el

oi

nk
y

ear

cl

ow

n
ch

oi

ce
g

ear

all

ow

t

oi

let
b

ear

d
br

ow

n
v

oi

ce
sp

ear
Talk to your adults, can you think of anything in your house that contains the digraphs

ow

,

oi

and

ear

?
Write the three sounds on balloons, blow them up, hit them in the air and every time you hit one say the sound it has on it.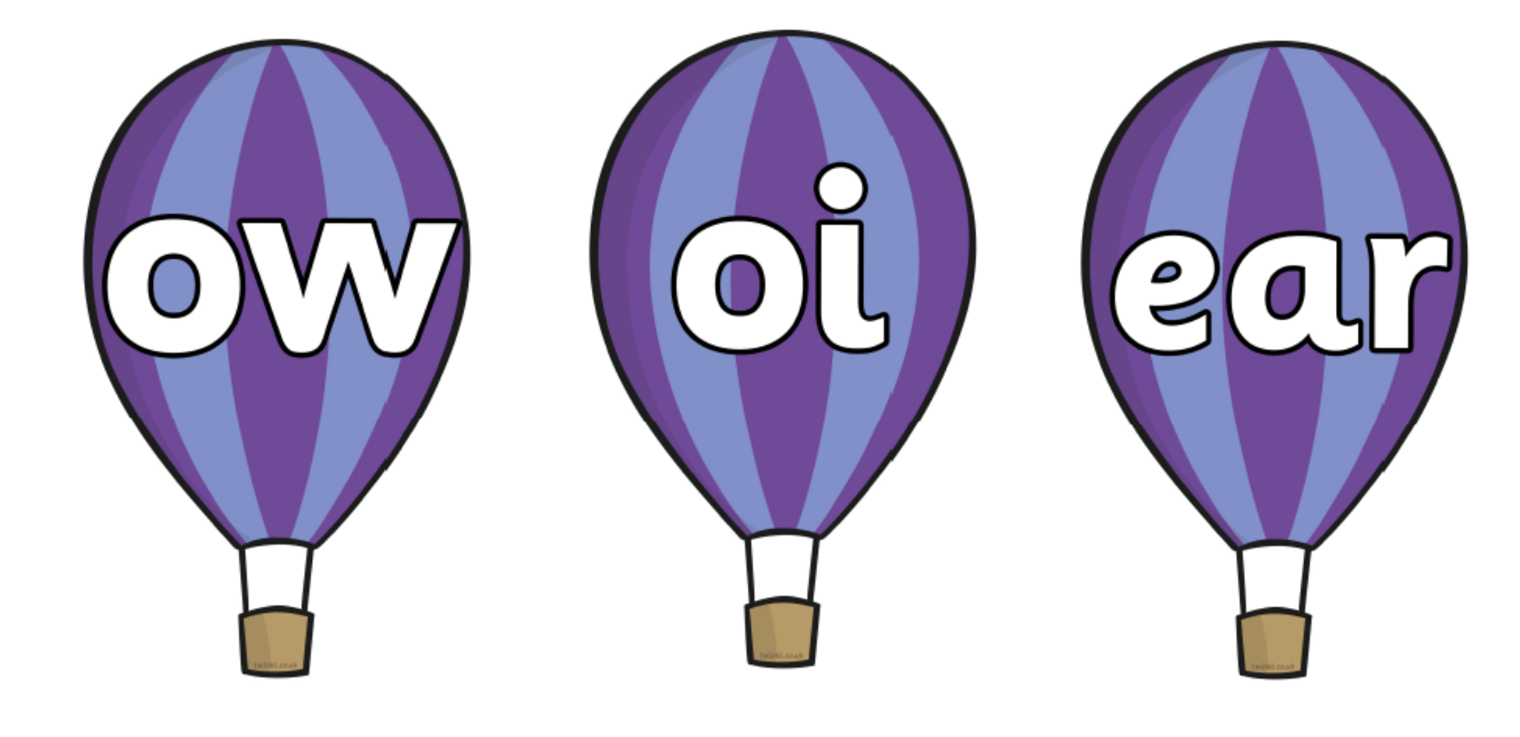 Have a go at writing some of the words listed, then use a highlighter pen to highlight the digraph inside the word.
Create a 'sound book', on the front cover write the digraph and on each page draw a picture of something containing that sound. Write the word underneath if you can.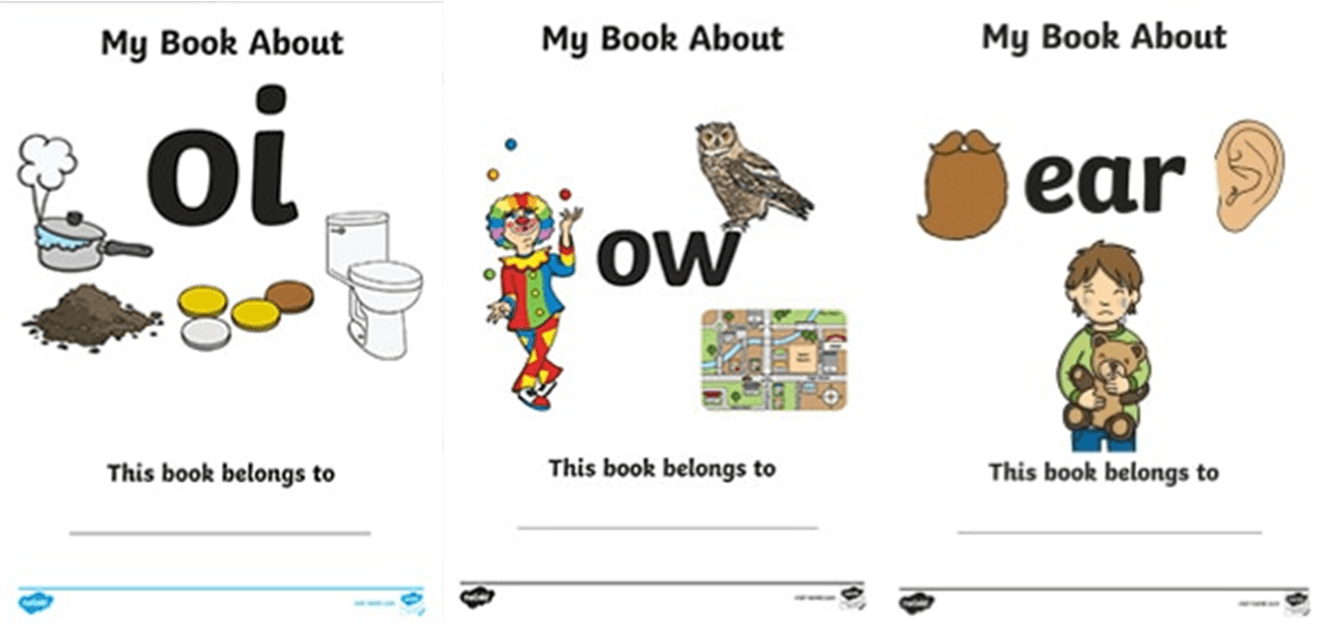 Get an adult to draw some pictures from the three sound lists on small pieces of paper and hide them around the house. Can you hunt them and put them on the correct digraph plate?
Challenge- to write a sentence containing a focus word/words using ow, oi and ear.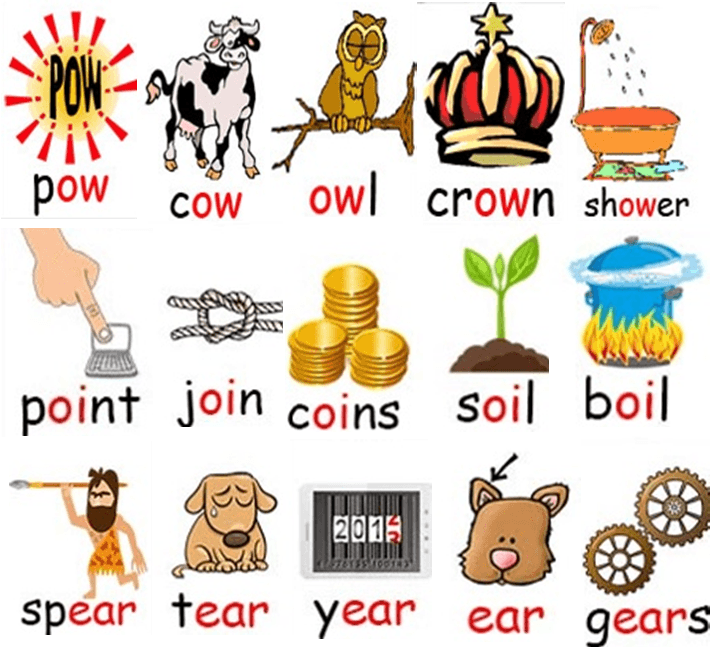 Maths
This week we are going to look at time, focusing on o'clock and half past.
We will be using an analogue clock. This is a clock that has a face, a little minute hand and a big hour hand. In school your teachers use the clock in the classroom to tell us when it is time for assembly, lunch and home-time. Do you have an analogue clock in your home?
Here are some ideas you could try at home.
O'clock is where the big hand is at the 12 and the small hand is on a number.

Half past is where the big hand is on the 6 and the smaller hand is between 2 numbers/ digit.

Have a look at this video which will help you learn how to tell the time

Can you make your own analogue clock using a paper plate or some cardboard cut into a circle?

Put numbers 1-12 around the edges.

A trick is to put 12 at the top, 6 directly below and 3 at the right side and 9 at the left side.

You could use split pins to fix a small hand and a long hand to the middle of the clock.

Get an adult to tell you a time, can you use your homemade clock to show it correctly?

We have lunch at 12 o'clock in school, can you find this on your clock?

Miss Harris goes to bed at 9 o'clock can you now find this on your clock?

Can you remember how to play 'What's the time Mr Wolf'?

Have a go completing these clock times, remember to check the time before you draw on the hands.
Connected Curriculum - Cultural Carnival
Our Topic this half term is Cultural Carnival.

Each week we will visit a different country.

This week we are off to Denmark.

Can you draw and colour this flag?

First acknowledged in 1219, the Danish flag remains the oldest state flag in the world still in use by an independent nation.

The official language of Denmark is Danish which is a language similar to Norwegian and Swedish.

The capital city of Denmark is Copenhagen, located on the island of Zealand.

With historical palaces and gardens and the world-famous Tivoli Garden amusement park in downtown Copenhagen, it is the most visited of all Nordic cities.

Design a theme park ride, give it a name and describe what it does and how it works
Draw a map of your own theme park and label it.

Here is a map of Denmark.

Can you have a go at sounding out some of the places you can see?

Can you find Kolding?

Denmark shares a land border with Germany and is connected to Sweden by the

Øresund-Bridge.

Even though they invented handball, football is still the national sport. They won the European Championship in 1992, and this is still one of the proudest moments in Danish sports history.

What sport do you enjoy? Take a photo of yourself doing a sport and email it into Miss Goodwin.

Danish Vikings invaded Western Europe and ventured as far as North Africa during the 9th and 10th centuries.

What can you find out about the Vikings?

Can you write your name using the

Viking runic alphabet?

LEGO was invented in Denmark. Legoland and the company headquarters are located in Billund, on the Jutland peninsula.

We know lots of you like playing with Lego, what exciting things can you build?

International surveys and studies often rank Denmark as the happiest place in the world based on standards of health, welfare, and education.

What makes you happy?

Can you have a go at making a friendship heart?

Who would you give this to?

Have you ever made a friendship bracelet?