Lock-down Gallery
Our Staff Toilet Roll Challenge seems to have started a trend! Check out our clips and pictures below, we hope they make you smile and brighten your day while we are away from each other.

Alison and Sean's - Live for the Day
Finlay reviews 'The Beast of Buckingham Palace'
Matilda signs her name in Makaton
Staff Toilet Roll Challenge
Alison and Sean Omer's Lockdown Song
Year 4's Toilet Roll Challenge
3 Star Challenge for the NHS
The Omer's Next #1 - Tesco Delivery Rock!
Alfie and Jack get Fishy!
Finlay signs his name in Makaton
Reception's Toilet Roll Challenge
Year 2's Toilet Roll Challenge
Gallery
Thank you for sending us your photo's from home. We love to see what you are doing and can't wait to see you all back at school again soon.
Until then, stay safe and save lives!
Katie has been learning about Pop Art and Andy Warhol.
Matilda has used story dice to create this piece of writing.
Leah has worked very hard on making her VE Day window display so colourful. Well done!
Libby sent us an update on her vegetable garden. She certainly has green fingers!
Kashi has been helping decorate Kirk House in time for the VE Day 75 celebrations.
Taylor has designed and built his own Lego structure.
Amelia & her sister really loved making the under the sea scene box.
Two of our activities were planting vegetables in the allotment and making apple shaped pinch pots from clay.
Maya's looks very proud of her underwater word challenge and artwork,
Oliver and Isabelle have also been busy on their topics and VE Day decorations.
Have a look at Charlotte's design and finished clay unicorn as well as her VE Day 75 window display.
Kayla's house looks awesome decorated with Tommy's, Poppies and Union Jacks.
Take a look at Jackson's fabulous 'Under the Sea' project.
Kayla has been busy the past couple of weeks colouring in rainbows & delivering them to the neighbours on her road.
Alex has been very busy at home. He's been learning his times tables, making a clock to learn the time, roasting marshmallows and baking a yummy chocolate cake
Charlotte has been practising her cooking skills. These all look yummy!
Alex has patiently taken a week making this fabulous alien from paper-mache.
Katie and Sophie look very proud of their rock art!
Madison and Lily-May have both enjoyed exploring their topics. Well done girls!
Our Eco Warrior, Charlotte, has been investigating natural resources.
Ethan has been making the most of the dry weather to thank all the Key-workers.
The keyworker children in school have made some beautiful decoupage pictures.
Austin wanted to show his teachers what he's been up to lately.
You've been very busy too!
Jimmy has been decorating fish with play-doh and exploring his numbers 11-20.
We especially love the starfish!
Alfie (Class 7) and Jack (Class 3) have been busy with the craft materials they have received from school.
Check out the video above with the moving fish!
Charlotte from Class 3 has been measuring water. She has also learnt about sustainability and saving our planet.
She has also been busy baking some yummy looking cakes.
Libby made these fabulous tin can owls today.
Can't wait to see what you make next!
William has been making food parcels, running 5k for charity and making rainbows for our key workers. The crafts were made at school.
Well done, William!
Year 3's 'Relentless Romans' topic has definitely inspired Wilf and Jamie.
Well done, keep up the good work!
Fleur has been having fun exploring EYFS's 'The Deep Ocean' topic. Here she is in the boat she made and her pirate outfit. We can't wait to see her treasure maps!
Take a look at all the hard work we've put into our Key Stage 2 allotment.
Finley and Matilda have been busy doing some writing. Finley has written a poem and Matilda a diary extract. Lovely to see your fantastic work. Hope to see you both very soon.
Take a look at our Twitter posts to watch clips of the ducklings!
We loved seeing pictures of the bonnets you made this Easter.
Some fantastic crafts completed by our key worker children today.
Wow the children in school today are just amazing artists. Why not draw an animal at home and share your picture with us. Need some inspiration? Check out Edinburgh Zoo's website where they have live webcams.
We have been busy creating rainbows at school today in support of all the people helping us at the minute
We are extremely fortunate to have our own woodland area. Our key-worker children have been out there making bird feeders and toasting marshmallows with Mrs Tapp!
We love Ashley's robot, he looks very cheerful!
Gracie and Emily's family had this excellent idea to preserve a memory from lockdown.
Here's Freddie with his new scary friend! We hope he keeps your seedlings safe!
Nicole, Tommy and Josh have had a very busy couple of weeks building this!
Here's Leah with her beautiful rainbow mosaic.
Ashley's garden looks fit for a VE Day party. We hope all you had a good day!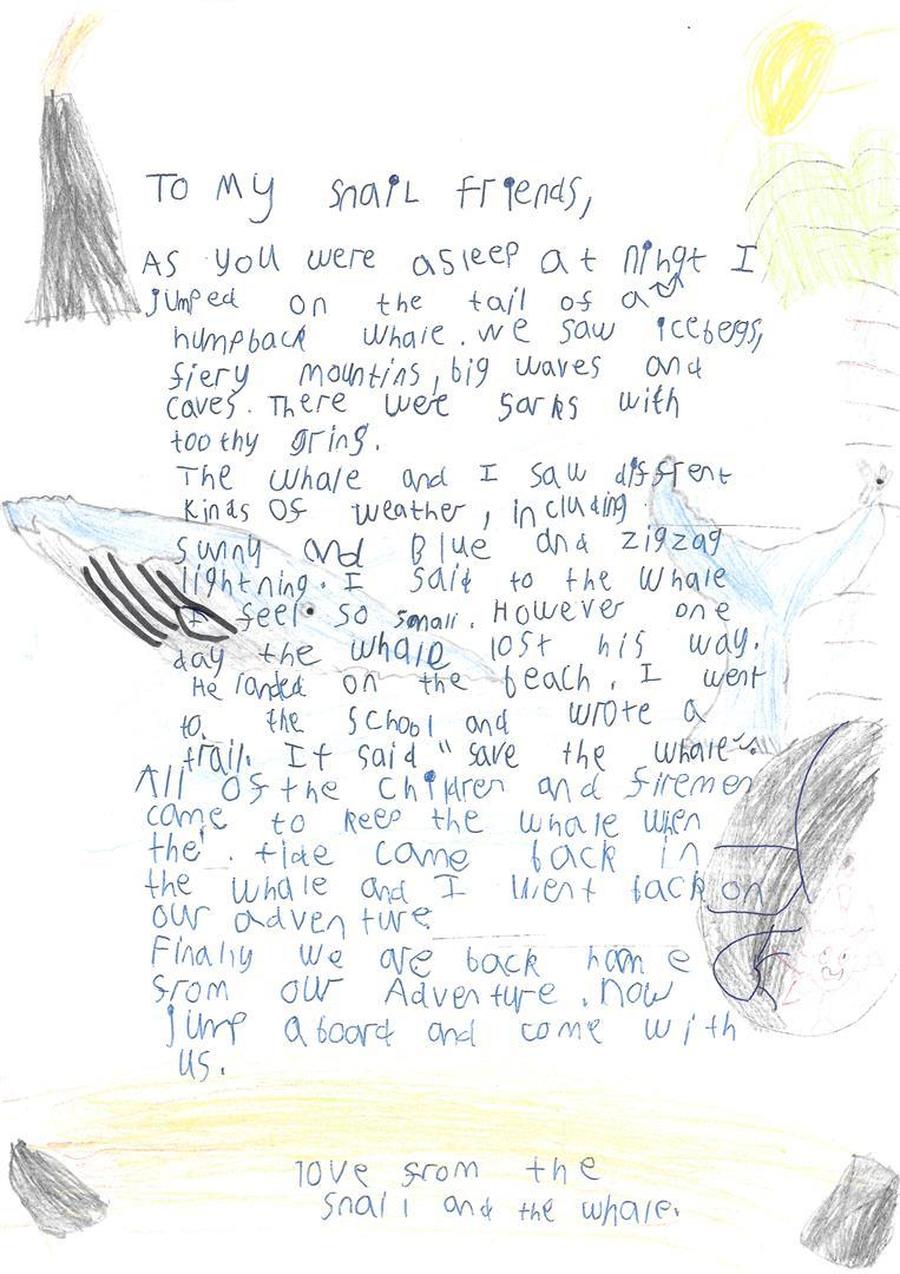 Myla has been inspired by 'The Snail and the Whale' to write and illustrate such a wonderful letter!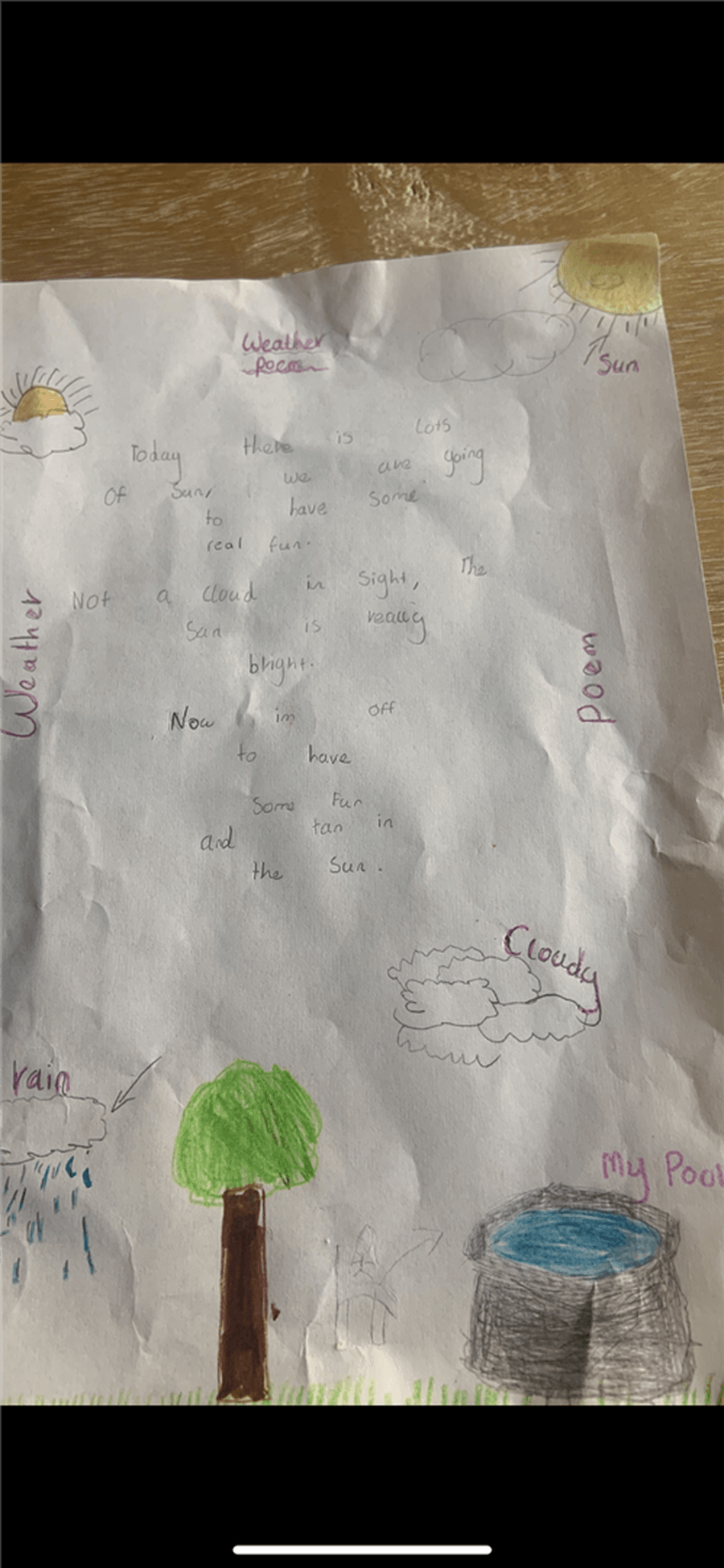 Here is Lilly's illustrated weather poem, don't forget to use sun-cream!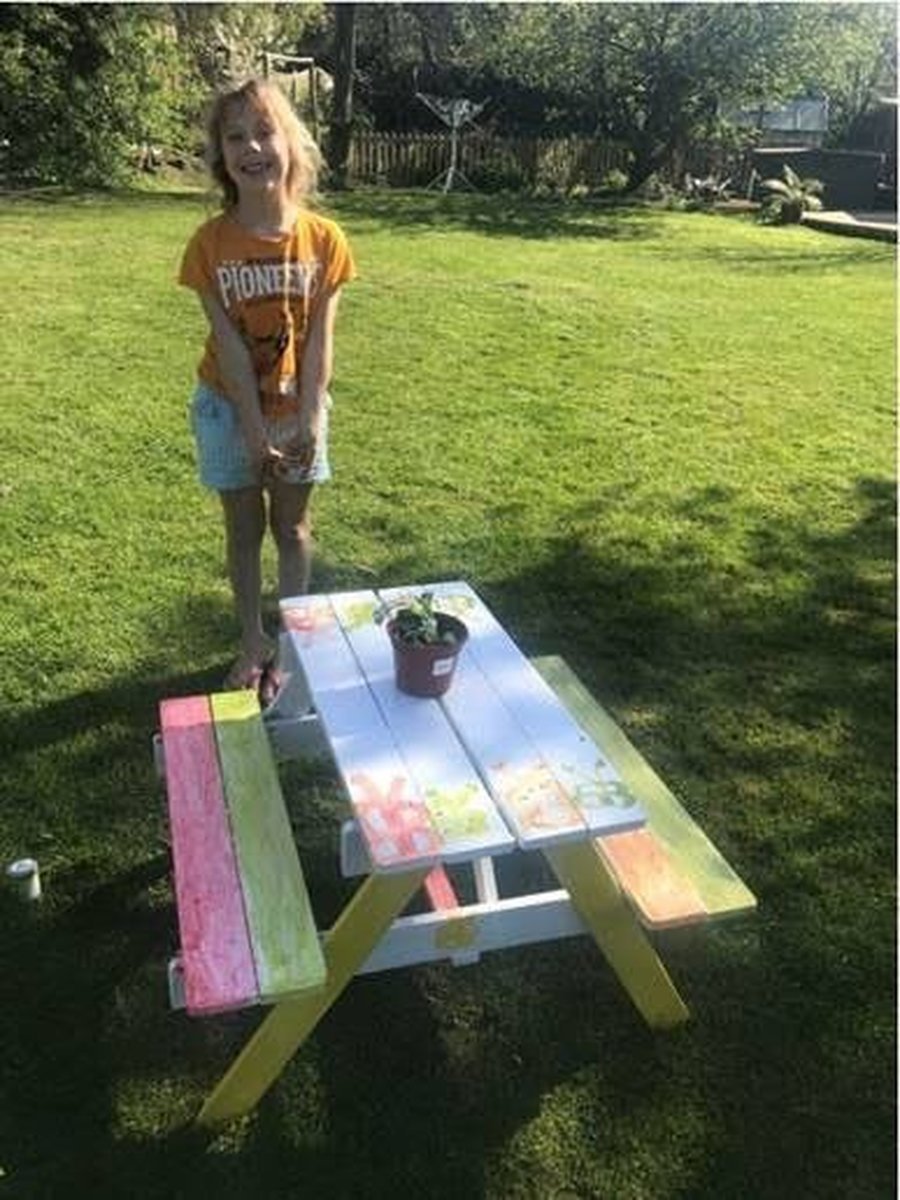 Libby has been busy renovating an old picnic bench she found in her garden. It's looks amazing Libby in this lovely weather you could have a picnic at your bench. What's your favourite picnic sandwich?
Lucy has made a craft box rainforest.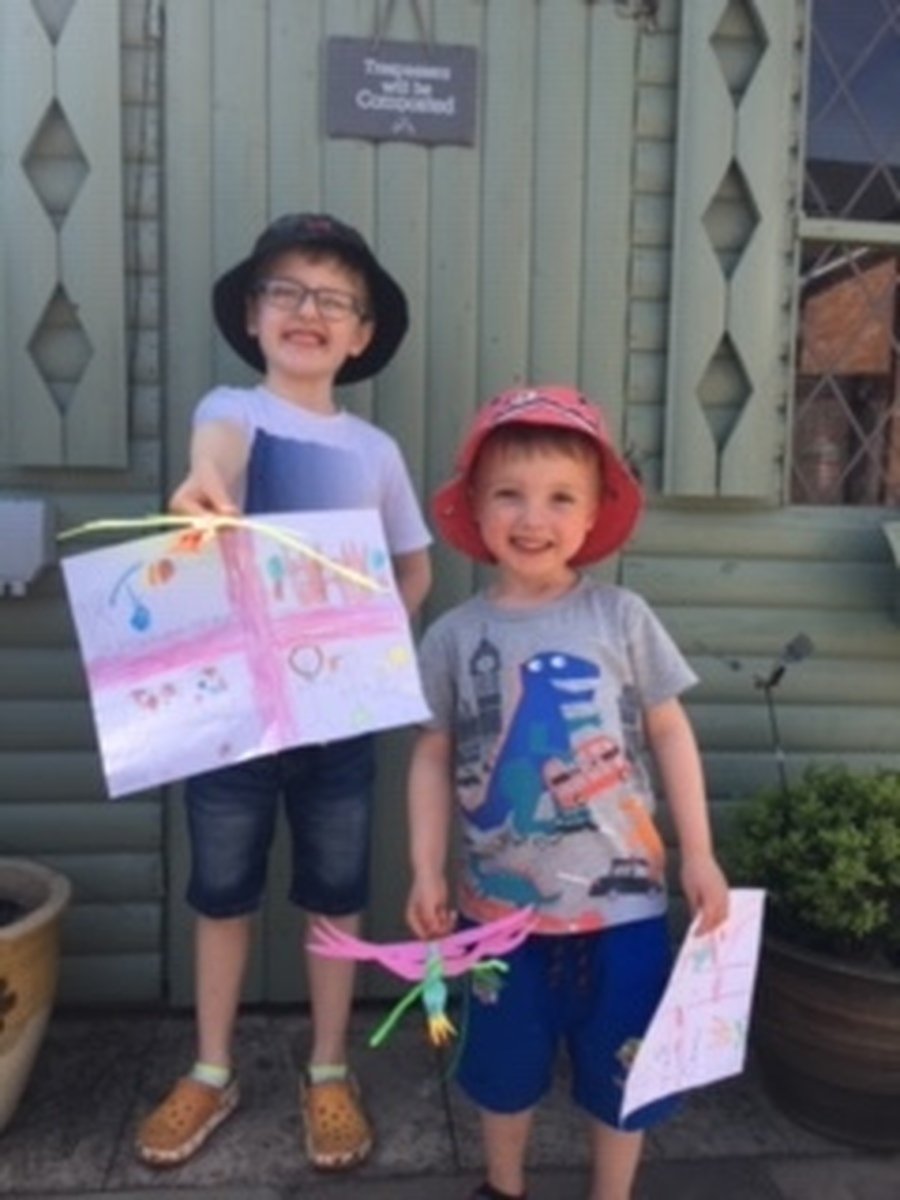 Jakob and Ezekiel wanted to wish everyone a Happy St George's Day!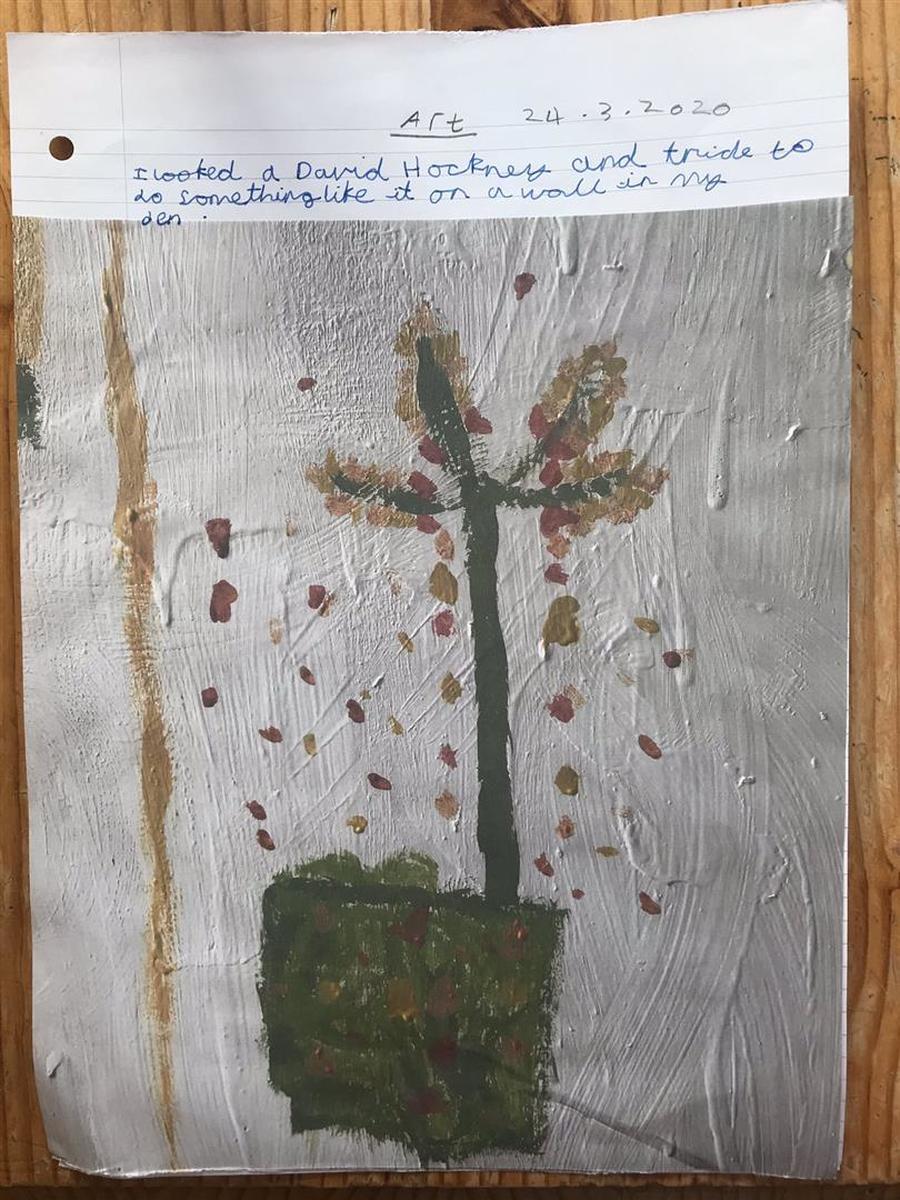 Libby has been busy with her paintbrush again. Lovely picture it made us smile.